RTE 'Stressed' documentary
'The insatiable need to succeed may come from a painful place in our childhoods, which can result in us having real difficulty in nurturing ourselves, as we may not have experienced a consistent model of soothing from a parent as we were growing up.
If a person hasn't been soothed adequately as a child, then it's very difficult to know how to instinctively self-soothe in adulthood. This can lead to them ignoring stress alerts and not seeking much needed help and social support'.
I was delighted to feature in this two part 'Stressed' documentary from Firebrand Productions and also to be the Psychology Consultant for this production.
Here is a clip from Part 1 of the documentary which aired on RTE1 in May 2017.
Unseen clips from the 'Stressed' documentary
Unseen clips from the 'Stressed' documentary
What is compassion focused therapy?
What is cognitive behavioural therapy?
Building resilience in children
RTE Today Show – When friendships break down
We learn who we are through our relationships. Friendships are the key to long-term emotional and physical health. Humans are a deeply social species whose most joyful and sad moments arise from the fulfilling or lack of "belonging" with close others.
But what happens when a friendship breaks down? This can be experienced as a huge loss. You have lost someone dear to you.
That person who you used to be close with, is no longer in your life, or at least, not at this time.
It hurts. Really bad. If a romantic relationship you are in breaks down there's a full stop and you generally get sympathy. But there's none of that when friendships stop.
There's no guidebook on how to manage. Here are some suggestions to help you to cope from my RTE Today segment:
RTE Today Show – Controlling people
"People who can't control themselves control the people around them.
When you rely on someone for a positive reflected sense of self, you invariably try to control him or her."
Insecurities, the environment of one's upbringing, or a tragic past, often play a role in a controlling person's need for dominance in their lives. The experience of insecure attachment, abuse or neglect can make people look for ways to regain control of their lives, almost as a defence and a way of gaining much needed predictability which may have been lacking in childhood.
The need for control drives people to turn to the external world in order to find things they can control and to divert away from their unbearable inner feelings. They may be compelled to micromanage and orchestrate the actions and behaviours of others sometimes leading to the painful abuse of others (including emotional, physical, sexual abuse, neglect and bullying). Alternatively, they may maintain rigid rules regarding routine, diet, or cleanliness and order, and exhibit mental health issues such as anxiety, depression, eating disorders, and personality disorders.
Vogue Williams 'My Anxious Life'
My appearance on the Vogue Williams documentary 'My Anxious Life' which aired on RTE.
I was also the Psychology Consultant for this episode.
Owning it: Your bullsh*t free guide to living with anxiety
I formulated all the exercises for 'Owning it: Your bullsh*t free guide to living with anxiety', giving users a practical approach which will empower readers to build a new relationship with their anxiety.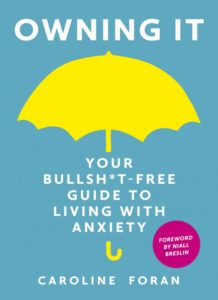 Mental Health Laid Bare podcasts
Listen back to a collection of "Mental Health Laid Bare" podcasts, which were originally broadcast on Dublin City FM. On them I offer guests a chance to openly discuss their personal struggles with mental health and share their tools for wellbeing. I also interview professionals in the field, and those with a particular vantage point. 
Click below to listen to a compilation of extracts from my shows
"All kids need is a little help, a little hope and somebody who believes in them"
Magic Johnson