RTE Today Show – Controlling people
"People who can't control themselves control the people around them.
When you rely on someone for a positive reflected sense of self, you invariably try to control him or her."
Insecurities, the environment of one's upbringing, or a tragic past, often play a role in a controlling person's need for dominance in their lives. The experience of insecure attachment, abuse or neglect can make people look for ways to regain control of their lives, almost as a defence and a way of gaining much needed predictability which may have been lacking in childhood.
The need for control drives people to turn to the external world in order to find things they can control and to divert away from their unbearable inner feelings. They may be compelled to micromanage and orchestrate the actions and behaviours of others sometimes leading to the painful abuse of others (including emotional, physical, sexual abuse, neglect and bullying). Alternatively, they may maintain rigid rules regarding routine, diet, or cleanliness and order, and exhibit mental health issues such as anxiety, depression, eating disorders, and personality disorders.
RTE Today Show – Psychopaths V Sociopaths
Learning more about the characteristics of psychopaths versus sociopaths was seriously fascinating research for this week's instalment of the RTE Today show.
Both falling under the umbrella of Antisocial Personality Disorder, I described sociopathy as a 'teenage' form of psychopathy in that sociopaths tend to be nervous and easily agitated often living on the fringes of society. A psychopath is much more cold and calculating, often very charismatic and occupying high powered jobs.
The origins of each are food for thought in terms of reduced connections between the prefrontal cortex (empathy and guilt) and the amygdala (fear and anxiety). We also talked about the horrific crimes committed by Adolf Hitler and Ted Bundy.
Vogue Williams 'My Anxious Life'
My appearance on the Vogue Williams documentary 'My Anxious Life' which aired on RTE.
I was also the Psychology Consultant for this episode.
Drug & Alcohol Task Force seminar
Western Region Drug & Alcohol Task Force seminar 'Alcohol & Pregnancy' 26th September 2017 Galway.
This was a ground-breaking event to be a part of where I raised awareness of 'Alcohol in pregnancy and it's impact on Infant Mental Health'. Watch my presentation back here..
Owning it: Your bullsh*t free guide to living with anxiety
I formulated all the exercises for 'Owning it: Your bullsh*t free guide to living with anxiety', giving users a practical approach which will empower readers to build a new relationship with their anxiety.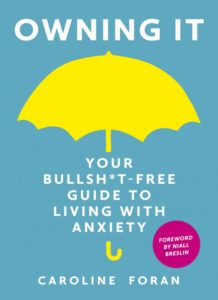 Mental Health Laid Bare podcasts
Listen back to a collection of "Mental Health Laid Bare" podcasts, which were originally broadcast on Dublin City FM. On them I offer guests a chance to openly discuss their personal struggles with mental health and share their tools for wellbeing. I also interview professionals in the field, and those with a particular vantage point. 
Click below to listen to a compilation of extracts from my shows
"All kids need is a little help, a little hope and somebody who believes in them"
Magic Johnson